About Lorne
Lorne is a stunning seaside town located along the famous Great Ocean Road and is approximately 2.5 hours drive from Melbourne. This area is part of the Otway Coast and traditional lands of the Indigenous Gadubanud peoples. The first European settler arrived in Lorne in 1849 and began subdividing the land thereafter. It wasn't until 1922 that the Great Ocean Road was extended out to Lorne, making it more accessible and appealing as a coastal holiday destination for residents in Geelong and Melbourne.
Today, Lorne remains a significant tourism destination and plays host to a number of popular annual events such as Falls Festival over New Years, Schoolies (Highschool Graduate Celebratory week) and the ever famous Pier to Pub swim. Such events are able to transform the usual permanent population of 1200 into 20,000 during high season. This quaint surf town caters to all kinds of visitors; be it families, backpackers in campervans, bus tours, groups of friends or retirees. No matter the season, Lorne is a perfect escape from the city if you're looking to get back into nature and still have plenty to see and do.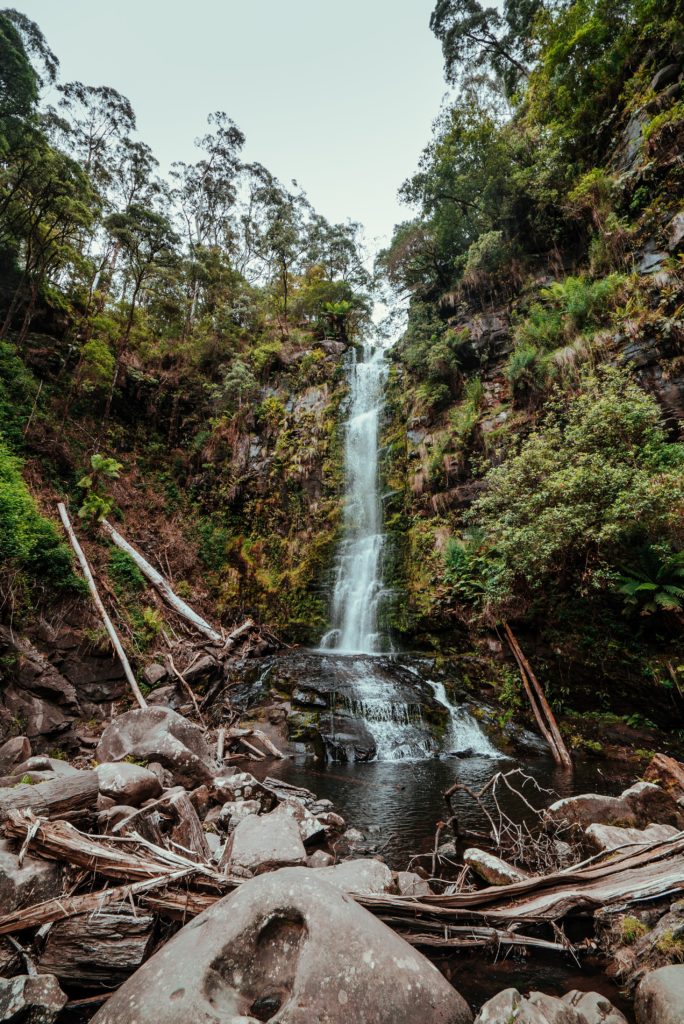 Photo by Jay Wennington on Unsplash.
What To Do
Lorne has a range of outdoor activities to suit the active visitor. The town has a strong surf culture with the main street itself hugging the edge of a perfect surf cove. This main beach has consistent low and small Westerly swells making it perfect for beginners. Just head into the Lorne Surf Shop on Mountjoy Parade and let the friendly staff guide you in the right direction. For more experienced surfers the surrounding headlands offer more surf spots with bigger swells. Main Beach is also perfect for swimming and is lifeguarded during peak season.
The Otways are a popular attraction for nature lovers looking to get off the beaten track and immerse themselves in this changing landscape. You will notice the landscape turn from Eucalyptus gumtrees by the coast into lush and thriving rainforests the more inland you go. Throughout the rainy months over Autumn and Spring you can expect the gems of the rainforest to come to life – waterfalls. Before heading on a hike, be sure to stop by the visitor centre and ask about the waterfalls in the surrounding areas so you don't miss out. Erskine Falls is by far the most popular for hikers starting in Lorne. As you head through the fern trees you'll hear the 30m falls gushing down before you see it. The trails to Won Wondah and Henderson Falls from Sheoak Picnic Area offer the perfect walk for the whole family or for those wanting a moderate 4km return hike for the day. Somewhere along this trail there is a famous giant Eucalypt tree. Remember to also look up as you're in Koala territory here. For something close to town be sure to head out to Teddy's Lookout for sunrise or sunset where you have a view of Lorne Scenic Beach around the headland.
The Lorne community is also known for its artistic flair by hosting popular performing arts festivals and showcasing local artisans through boutique shops along the main street. You could easily spend an entire afternoon browsing and chatting to each shop owner.
Here is a list of the most notable events held in Lorne:
Falls Festival New Years
Pier to Pub swim
Great Ocean Road Marathon
Lorne Festival of Performing Arts
Lorne Film Festival
Lorne Sculpture Biennale
If you have your own vehicle or bus for your group then you'll have access to some amazing sites worth the drive from Lorne. The number 1 attraction being the iconic 12 Apostles. Kennett River Koala Walk is the most guaranteed area for Koala spotting. For a completely different view of the Otway rainforest, why not suspend yourself 30m above the ground on a zipline and fly through the rainforest canopy. Otway fly is an extremely popular activity and is approximately 1.5 hours drive from Lorne.
Food & Drink
For a small coastal town, Lorne has a lot of hospitality to offer. You can't go past its magnificent pubs that overlook the ocean and make the most of showcasing the freshest seafood of the area along with traditional pub meals. The Lorne Hotel and Grand Pacific Hotel were both built in the 1870s and offer the quintessential Aussie pub experience. If you only have eyes for fresh seafood, then head to Lorne Pier Seafood Restaurant. You won't be disappointed in the selection or the portion sizes here.
For breakfast or lunch head into Lorne Central café for a great value café menu with amazing sea views. Moons Espresso Bar and Kafe Kaos are some more top quality brunch spots to visit. If you're looking for the Australian classics like sausage rolls and lamingtons, then head into Louttit Bay Café and Bakery. Lorne has some international favourites too such as Mexican Republic, Jashn Indian Beachside Dhabha Restaurant and Saporitalia Italian Cuisine and more.
Where To Stay?
Depending on your budget and group size, Lorne will have accommodation perfect for you. Lorne Foreshore Caravan Park is the perfect seaside camp ground with all the amenities you need and conveniently located a short walk from the main street. If you'd prefer some more privacy and wilderness while you camp then check out Sharps Campground or Allenvale Mill Bush Campground. For backpackers or thrifty locals wanting a place to meet people then Erskine River Backpackers is perfect for you. Lorne also has a number of quality hotels and cottages if you're after a bit more luxury. Check out Mantra, Lorne Hotel, Lorne World and Lorne Bush House Cottages and Eco Retreat to name a few.